Regular price
Sale price
59.00 USD
Unit price
per
Sale
Sold out
Potent Styrian Pumpkin Extract - Activate your body with the Perfect Press Styrian Pumpkin Oil. We perfectly press organic, non-GMO pumpkin seeds using our unique, German-engineered technology with no heat applied to preserve the nutritional value of this highly potent mineral oil.
Promotes Your Overall Wellness - Styrian pumpkins are specially grown for their deep emerald green seeds. Unlike the regular pumpkin supplement, Styrian pumpkins seed oil are rich in vitamins and minerals such as vitamin K, iron, potassium, phosphorus, and more. Each bottle is brimming with bioactive compounds to support vital bodily functions.
Helps Strengthen Your Urinary Tract - Incorporating this pumpkin seeds vitamin oil into your daily healthcare regimen helps reduce the risk of inflammation. You can also take a tablespoon or two of Styrian pumpkin seed for prostate enlargement prevention.
Pumpkin Seed Oil for Hair Growth and Smooth Skin - Our pumpkin oil seed formula contains antioxidants, zinc, and vitamin E. Dilute a small amount of this premium oil to a neutral carrier oil like jojoba. Then, apply it to your skin to nourish it from within.
Versatile Pumpkin Seed Oil Supplement - Experience the nutritive benefits of our perfectly pressed oil in more ways than one! Add it to your smoothie, juice, or salad. Massage it directly onto your skin and scalp. Or ingest 1-2 tablespoons in the morning.
Nourish your body as nature intended with Activation Products. This premium Styrian Pumpkin Oil is rich in minerals and teeming with essential fatty acids and antioxidants from rare yet sought-after Styrian pumpkin seeds.Pure, Perfectly Pressed Styrian Pumpkin Seed OilWe press thousands of organic Styrian pumpkin seeds through a unique, German-engineered technology without any heat applied. This delicate, precise process ensures you only get the best, highly nutritive oil in the market to support your overall wellness. Our pumpkin oil is an excellent source of:MagnesiumPhosphorusIronPotassiumCopperManganeseZincVitamin KOffers A Host of BenefitsFood grown in depleted mineral soils is mineral and vitamin deficient, and no longer provides the foundational nutrients our bodies need. That's why our Styrian Pumpkin oil is packed with nothing less than a complete nutritive blend that helps with:Supple skin and fuller hairDecreased inflammationAntioxidant boostOptimal bladder and kidney functionImproved prostate healthWeight managementDeep, restful nights of sleepNourishing Food Dressing and Drink Add-OnThis pumpkin seed oil delivers rich, nutty flavors to your palate. It goes well with basically everything - from your favorite smoothies, juice, salads, stews, and even desserts!Important Note: We don't recommend using this raw seed oil for cooking since the heat may damage some of its nutritional properties.Directions for UseFor skincare: Dilute a small amount of pumpkin oil to neutral carrier oil.As a supplement: Take one to two tablespoons of pumpkin oil to kickstart your day.Simple Ingredients You Can TrustNothing is more important to us than your health.
Share
View full details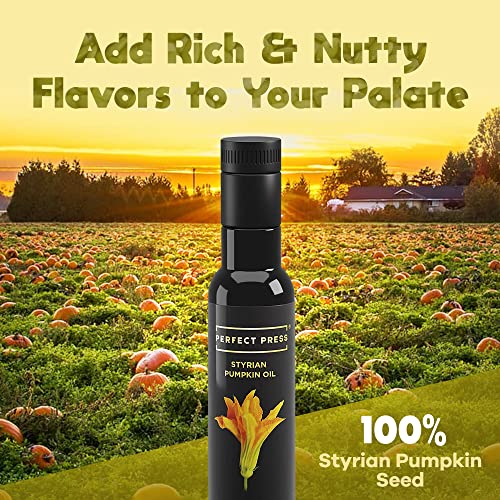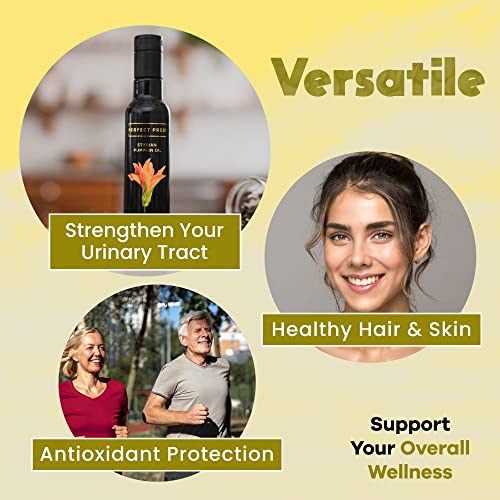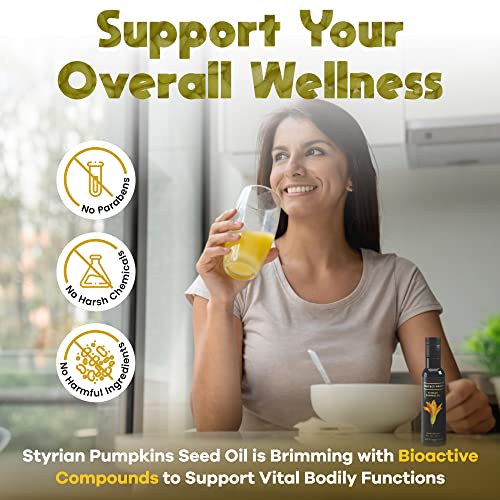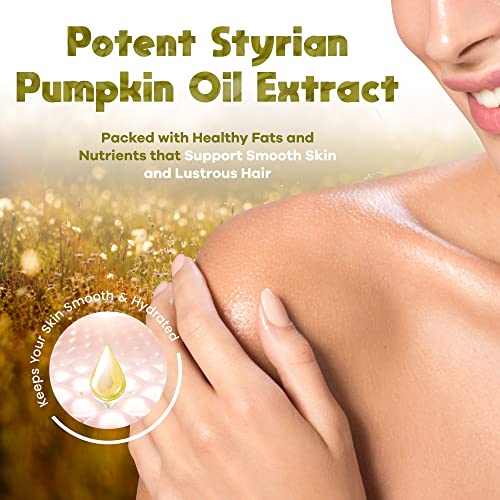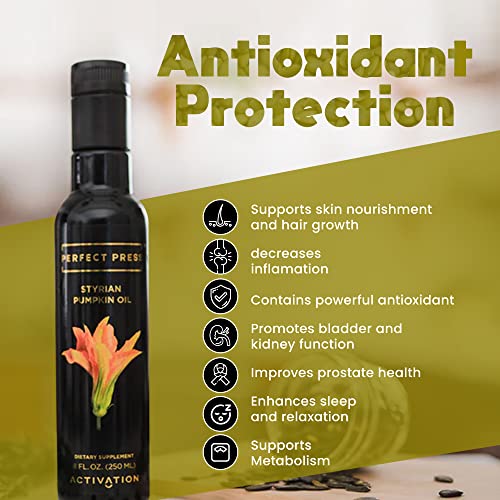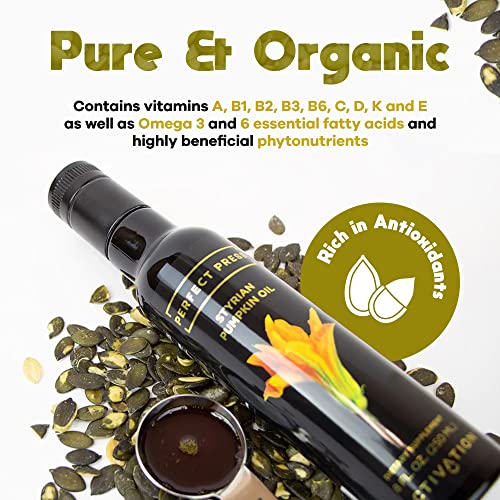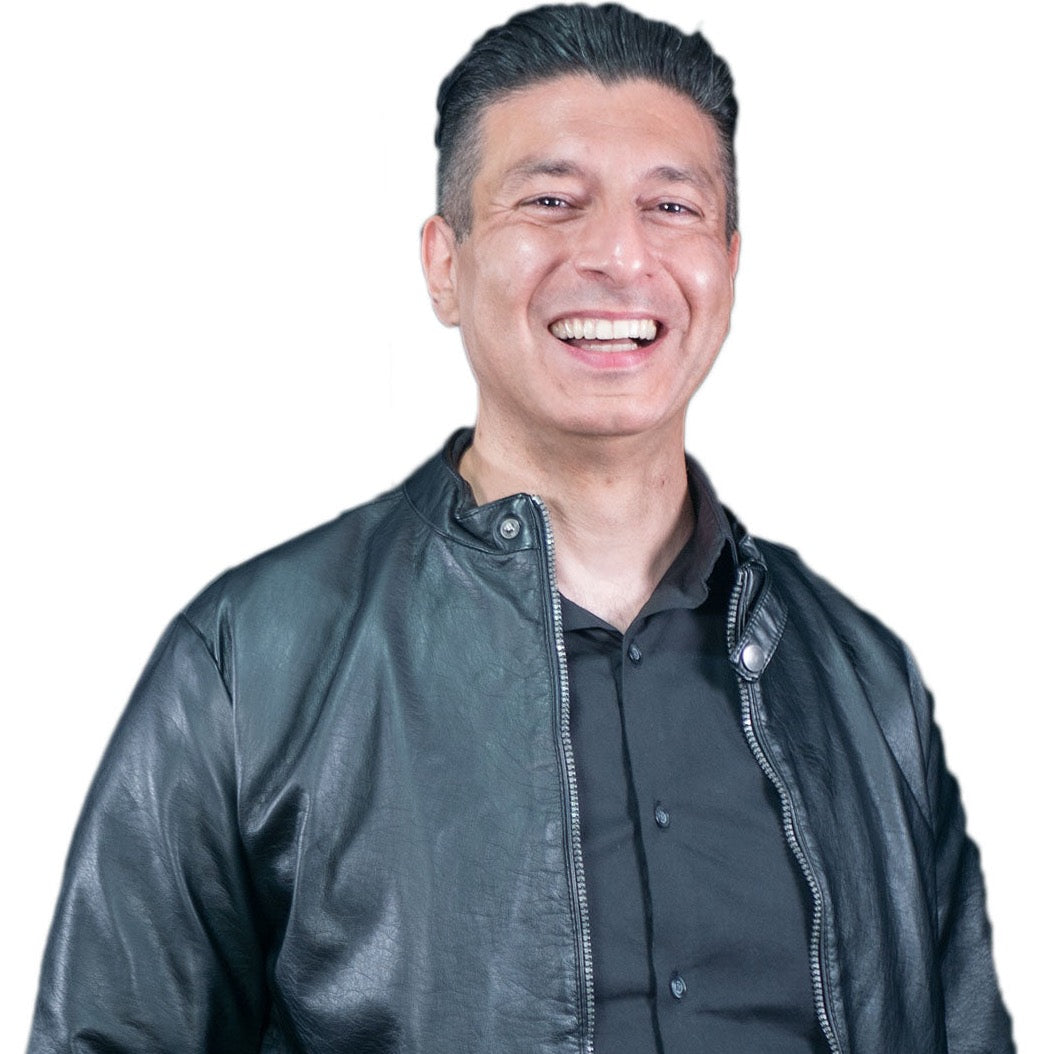 Looking Forward to work with you!
ZE. 
M.F.A - B.F.A - M.M.C